Just sharing the love...
I had a flyer addressed to me in the mail today. Goodness knows how these companies get my address, but in all fairness to them 9 times out of 10 I am genuinely interested in the product they are trying to tempt me with. Today was Garnier's B.B. Cream. The flyer was advertising that on the Garnier UK facebook page you can sign up to receive a free sample of the cream in the mail. I've got a feeling it will probably be a pathetic little amount of product but hey, it's free and I've always wanted to try a B.B. cream after all the hype on youtube (I watch loads of makeup tutorials and hauls etc). So I signed up and, because I'm a nice person, I thought I would share it with you all :) Please note that the image below is the full size product and I am pretty sure that this is not what we will receive in the post!!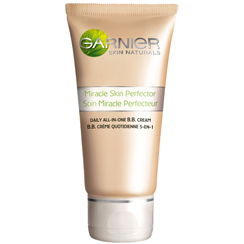 Log on to facebook and search for Garnier UK. 'Like' the page and then fill in your address details. They said that my sample will be with me in 4-12 days. Sorry if there are any international readers of my blog but I am assuming this particular offer is only available in the UK. You'd better hurry as there are only 230,000 samples to give away.
I will keep my eyes peeled for more freebies, until then...